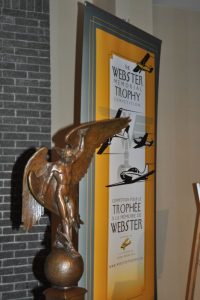 The annual Webster Memorial Trophy Competition is committed to identifying "Canada's Top Amateur Pilot". It has operated since its inception in 1932, interrupted only twice (first by World War II and again in 1954 due to costs).
The competition is named after John Webster Jr., a civilian pilot who participated in the 1931 Trans-Canada Air Pageant. In July 1931, John flew his Curtiss-Reid Rambler representing Canada in the King's Cup Air Race in England. A month later, while in St. Hubert, Québec practising for an aerobatic competition as part of the pageant, John Webster was involved in a fatal aircraft accident. The following year, John's father (Dr. John C. Webster, of Shediac, New Brunswick) established the John C. Webster Memorial Trophy Competition to perpetuate his son's memory.
See our history section for more details, past finalists and winners, and media from the competition.
Prizes
The winner receives:
a beautiful John C. Webster bronze medallion, depicting the Webster Trophy;
an Air Canada pass for two, valid anywhere within the Air Canada system for Canada, USA & Caribbean;
a framed print depicting John Webster's aircraft painted by one of Canada's foremost aviation artists, Robert Bradford;
a professional development day with the Snowbirds;
a cash award donated by the Air Canada Pilots Association;
a cash award donated by Collegiate Aviation Canada;
a Certificate of Achievement donated by the Air Transport Association of Canada;
a position as a flight instructor with Brampton Flight Centre once qualified; and
a $2,000 grant toward a Flight Instructor Rating donated by Moncton Flight College.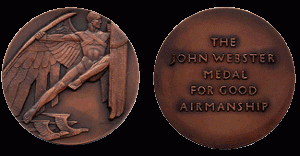 The runner-up will have his or her name inscribed on the Eunice Carter Memorial Trophy, given for excellence in overall piloting skills, and will also receive:
a Webster plaque denoting runner-up status;
a cash award donated by the College of Professional Pilots of Canada;
a framed print of John Webster's aircraft (as described above);
a $1,000 grant toward a Flight Instructor Rating donated by Moncton Flight College.
One competitor (not necessarily a finalist) will have his or her name engraved on the Nav Canada Trophy for excellence in pilot/controller communication.
All finalists receive:
Webster plaques denoting their status as finalists;
a $1,000 grant toward a Flight Instructor Rating donated by Moncton Flight College;
all flying costs covered for any required familiarization or check-out flight and the two National Finals flight tests courtesy of Airline Pilot's Association (ALPA);
simulator passes donated by CAE;
a one year membership donated by the Canadian Owners & Pilots Association;
a one year subscription donated by WINGS magazine;
a one year subscription to SKIES magazine;
a one year subscription to Canadian Aviator;
a copy of the online pilot training module from Online Single-pilot Resource Management;
personalized Snowbird lithographs signed by the entire current year's team; and
a guaranteed job interview with Air Canada once they are qualified.
Competition Process
Pilots first compete within one of nine regions across Canada (British Columbia and Yukon, Alberta and Northwest Territories, Saskatchewan, Manitoba and Nunavut, Western Ontario, Central Ontario, Eastern Ontario, Quebec, and Atlantic). The regional competition includes a flight test and written examination. The flight test can be either a recent Private Pilot flight test, Commercial Pilot flight test, or custom Webster Competition flight test. The pilot with the top blended score between the flight test and written examination in their region is the regional winner and becomes a finalist.
The nine finalists compete during the summer at a pre-selected venue. The national finals includes a flight test in an aeroplane, a flight test in a simulator, a written examination, and an interview with the competition judges.
Apply for the 2018 Competition
The 2018 finals will be held August 21– 25, 2018 in Peterborough, Ontario and hosted
by Seneca College.
Deadlines:
Application, flight test, and fee due by June 1, 2018
Online written examination due by June 15, 2018
Application: