Origin
The Webster Memorial Trophy Competition has been a part of Canadian aviation history since the early 1930s – a time when Canada was becoming considerably "air minded". Although Canada's first aeroplane flight (J.A.D. McCurdy and the "Silver Dart") had taken place in Baddeck, Nova Scotia in early 1909, aircraft were still relatively new to most Canadians – many Canadians at the time had never seen an aircraft fly.
Following World War I, many former military pilots and some civilian pilots purchased some of the hundreds of decommissioned military aircraft. Some of these pilots established commercial operations carrying cargo or passengers; others took to "barnstorming" — touring the countryside performing aerobatics, wing walking, and other activities to the amazement and enjoyment of curious onlookers.
In 1927, the government of Canada signed an Order-in-Council to develop flying clubs. These clubs needed at least 30 members who were either already licensed pilots or interested in becoming trained as pilots. The members were required to invest in an aerodrome and workshop area and, in return for this investment, would receive two light aircraft. The clubs needed to hire an instructor and mechanic.
Not surprisingly, the plan was met with considerable enthusiasm from the Canadian public. To promote the clubs and to increase the interest in aviation, clubs began hosting "Air Pageants" – with aerobatic displays and offering passenger rides. One of the major events was the Trans-Canada Air Pageant. It spanned the period July to September of 1931. Pilots from the Royal Canadian Air Force and from various flying clubs flew across Canada providing aerial shows to nearly one-third of a million members of the public.
John Webster Jr. was one of the civilian pilots who participated in the 1931 Trans-Canada Air Pageant. In July 1931, John flew his Curtiss-Reid Rambler representing Canada in the King's Cup Air Race in England. A month later, while in St. Hubert, Québec practising for an aerobatic competition as part of the pageant, John Webster was involved in a fatal aircraft accident. The following year, John's father (Dr. John C. Webster, of Shediac, New Brunswick) established the John C. Webster Memorial Trophy Competition to perpetuate his son's memory.
The renowned Canadian sculptor, R. Tait MacKenzie designed a bronze figure of the Greek god Icarus representing youth and flight. This figure became the Webster Memorial Trophy and is on display at the Canada Aviation and Space Museum in Ottawa. The trophy is made available during Webster Week each year for an appearance at the Webster Memorial Trophy Awards Banquet.
The Webster Memorial Trophy Competition has operated since its inception in 1932, interrupted once by World War II and again in 1954 due to escalating administrative costs.
Winners and Finalists
Photos
Wayne Foy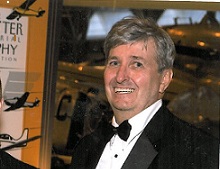 The Webster team were saddened to learn of Wayne Foy's passing on 20 August, as this year's Webster competition got underway.
Wayne not only was an enthusiastic supporter of Amy's efforts as Webster administrator for many years, in typical Wayne fashion he jumped in with both feet to take on many duties, including emcee at the banquet, judge when others were not able to be there as well as being a key player in the Amy and Wayne traveling road show, tirelessly promoting Webster throughout Canada. But most important, Wayne turned his passion and experience from a long aviation career into one of the most effective forms of mentorship, guidance and support for young pilots across Canada who attended Webster each year.
Visitation will occur at Tubman Garden Chapel, 3440 Richmond Rd, Nepean, ON on Saturday, 8 September from 1000-1200 followed by a celebration of Wayne's life. We hope many of the Webster alumni and friends will attend.
Amy and Wayne are considered like family to the Webster team. Our thoughts are with Amy during this difficult time.
http://www.tubmanfuneralhomes.com/families-in-our-c…/…/2733/
Eunice Carter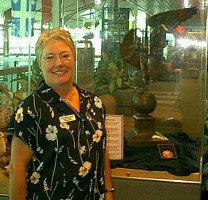 On Saturday, November 8, 2003, Eunice Carter, longtime friend and promoter of General Aviation in Canada, and the administrator and major driving force behind the Webster Memorial Trophy Competition, passed away peacefully at the General Hospital in Ottawa.
Known as "Ma Webster" to all of those who were involved in the Webster competition, Eunice demonstrated a tireless dedication to general aviation through her efforts on the Webster and through her frequent interactions with the various support agencies involved with General Aviation. Awarded the Paul Tissandier Diploma of the Federation Aeronautique Internationale (the governing body for sport aviation) earlier this year, Eunice has also won acclaim as the COPA Award of Merit winner in 2000, and as her appointment of "Honourary Snowbird #1″ by the Canadian Snowbirds Aerobatic Demonstration Team.
Among her other activities, Eunice was a strong advocate for the Breast Cancer Society, and was an enthusiastic and active member of the Living for Today cancer support group where she was especially effective in helping those just beginning their cancer treatments.
Donations to the Canadian Cancer Society or to the Canadian Diabetes Association are gratefully accepted.